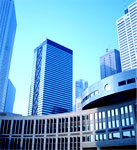 Shandong Yanggu Shunda Textile Co., Ltd is enjoying a convenient location and contains a total land area of 67,000 square meters, including a building area of 24,000 square meters. We have the production capacity of 40,000 pieces spindle and the annual high quality yarn production is 4,000 tons. Our products mainly include following: T/C 60 pieces, 45 pieces, 33 pieces, C 40 pieces, 32 pieces, 21 pieces, air spinning 10 pieces, 7 pieces, -10 pieces. At present, we have a total working staff of 900 persons, including 8 persons who have had a senior technical title; 78 persons who have had the junior technical title. More than 48% of the total staff have received higher education. Up to 1999, our fixed asset is RMB 40 million Yuan. In 2002, our sales income was RMB 55 yuan, of which the profit payments and tax turnover all together is RMB 6 million yuan. We keep our emphasis on the contract and have been awarded many titles, such as the country level "Four Star Enterprise", "Municipal Advanced Enterprise" and "Provinvial Contract Keeping and Good Business Credit Enterprise".
Since the establish of the company in May 1990, through many years' hardworking, our company has developed to be a large scale company. Our profit is growing up by an average rate of 30%. By technology innovation and structure optimization, our products have been greatly boosted, now, which consist of several series. Our products are in high quality and popular in China market. We have many customers including some Australia full capital enterprises, Zhoucheng Shengda Group, Shijiazhuang Changhong Weaving Plant£¬Shanghe County Weaving Plant.
Today our company is prospective and tomorrow it is flourishing. All the working staff of the company will continue the efforts for challenging the new competition after China entering into WTO. The chairman of board, general manager and CCP branch secretary Fan xianming is on the behalf of all the staff sincerely welcoming all good co-operations and expressing the appreciations to friends and customers.